Key Takeaways:
😊 MyHeritage is a genealogy and DNA testing company that offers services for researching family history and ancestry.
😊 Their DNA test provides insights into ethnic origins and matches with potential relatives.
😊 Users can build their family tree online and access historical records to learn about ancestors.
😊 MyHeritage allows uploading raw DNA data from other testing companies for additional matches.
😊 The company offers an affordable autosomal DNA testing option but does not provide y-DNA or mtDNA kits.
😊 MyHeritage specializes in ethnicity estimation and provides ethnic results from 42 regions.
😊 DNA Matching is available to find unknown relatives and compare DNA data with other users.
😊 MyHeritage DNA offers a Chromosome browser and an AutoCluster feature for DNA comparison.
😊 Their separate Health DNA Test provides genetic risk and carrier status reports for certain conditions.
😊 While MyHeritage has a relatively smaller DNA database, it supports 42 languages and offers worldwide availability.
If you've ever wanted to learn more about who you are, where you came from, and who your ancestors were, using a DNA testing kit might be well worth considering. MyHeritage is one company that offers genetic testing services of this kind to the general public.
Below, we will take a thorough look at the MyHeritage company and its features. We will also go over the specific services and features available with MyHeritage DNA and explore the DNA testing process in general. That way, when it comes time to choose a DNA testing service for you, you'll feel self-assured knowing that you've chosen a service that will be worth your time and money. If you want to speed up your choosing process, I would recommend choosing between these companies: Ancestry DNA vs 23 and Me.
If you want to find out right now which is the best DNA test according to my research:
About MyHeritage

An online platform designed to help users uncover information about their genealogy, MyHeritage has been offering software services since 2003. They established somewhere near 35 million family trees by the year 2017. The company was founded by Israeli entrepreneur Gilad Japhet. The company began offering DNA testing services in 2016 and their DNA database is 2.4 million.
MyHeritage stands out among other mainstream DNA kit services as an international platform with worldwide availability. It has offices located in Tel Aviv, Utah, Kyiv, Ukraine, Burbank, Tel Aviv, and its headquarters are in Or Yehuda, Israel. It supports 42 different languages.
MyHeritage Review: Key Features
One of the least expensive mainstream DNA kit services
Has a turnaround speed of around 3-5 weeks
Helps you determine estimated ethnicity
Allows you to discover DNA matches
Only offers autosomal DNA kit (no Y-DNA or Mitochondrial testing options)
Overview of The DNA Testing Process
DNA testing services can be useful for a variety of reasons. With DNA testing, you can discover more about your ancestry, family history, genealogy, lineage, family tree, and estimate which ethnicities are most prevalent in your genetic makeup. Some DNA testing services are also useful in determining certain predispositions to common ailments or diseases, uncovering unknown genetic traits, and determining other fascinating physical characteristics.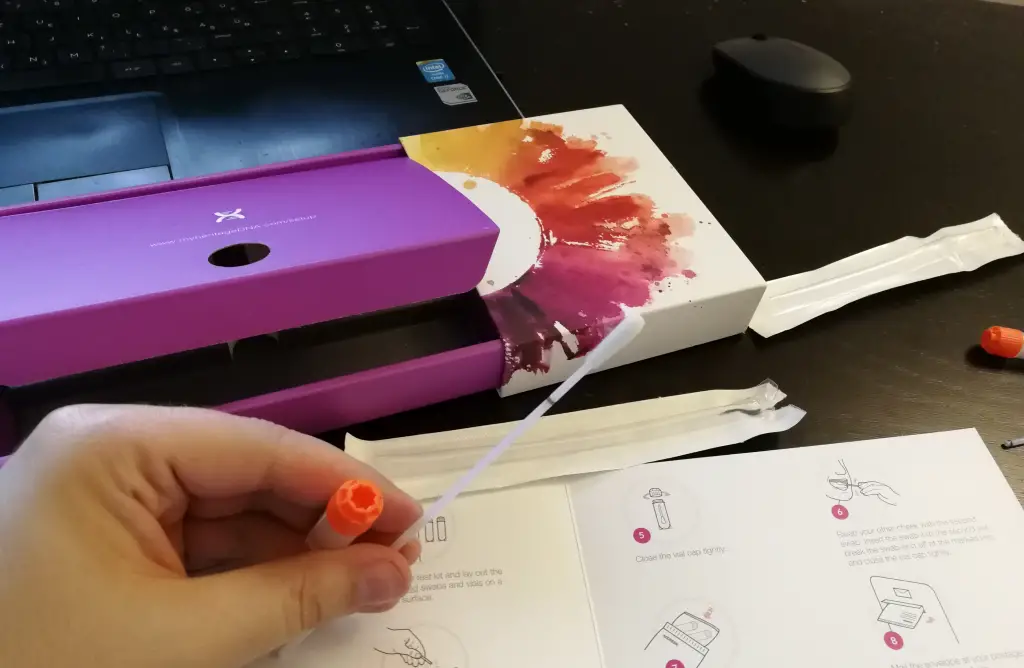 Breaking Down DNA Sample
DNA testing involves sampling your genetic material and breaking it down digitally. When using a mainstream DNA testing kit like the ones offered by MyHeritage DNA, your DNA sample will be gathered through the use of a saliva cheek swab. This saliva sample is then mailed to a laboratory where it is examined by specialists and then broken down into a sequence of letters that make up your genetic code: A, C, G, and T. This is called nucleotide bases of DNA. Once a DNA sample is broken down into a digital genetic code, it can be examined and compared to other DNA samples. This can help determine ethnicity, lineage, health factors, traits, and much more.
DNA Libraries and Reference Population
The DNA data gathered from samples will be cataloged and then run through algorithms that compare the information in your genetic code to other data samples found in large DNA libraries and their own DNA database (reference population). These libraries are in many cases available for sample comparison by DNA specialists and in some cases are even available to the general public. This allows specialists to make accurate ethnic and genealogical conclusions.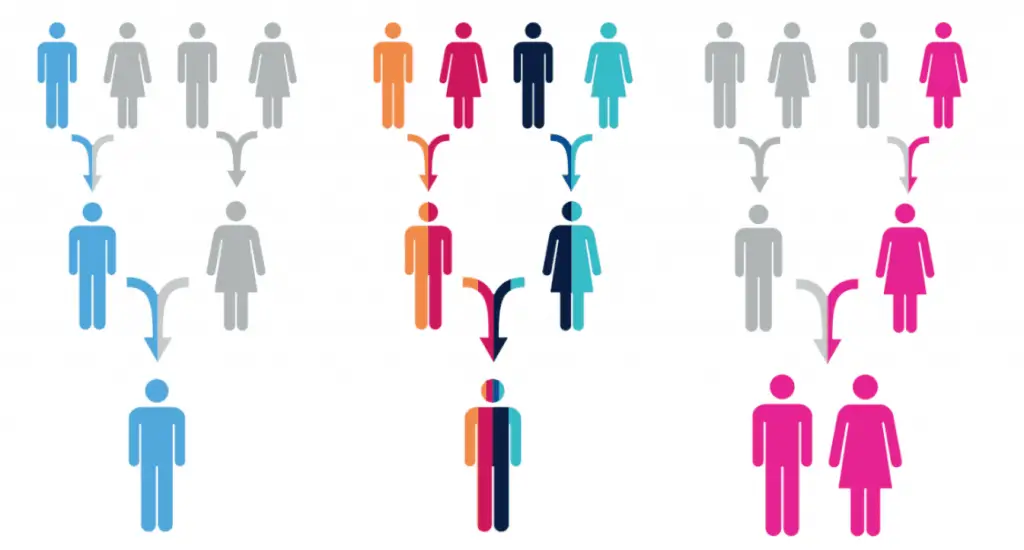 Three Principal Types of DNA Genealogical Tests
DNA can be gathered from the nucleus of a cell, from the Y-chromosome, or the mitochondria of a cell. Each method looks at a different part of the genome and can be useful for various kinds of genealogical research. These three methods are autosomal, mitochondrial (mtDNA), and Y-DNA. Autosomal tests are great for finding out who you are related to through DNA matching. Autosomal tests are also widely used to estimate your ethnicity composition. Y-DNA and Mitochondrial DNA are generally much more objective and allow for the discovery of relationships along a strict female line and a strict male line. This means that mtDNA and Y-DNA tests can allow an individual to trace their ancestry back through a haplogroup for centuries. Not all companies offer their users access to all three kinds of DNA testing. MyHeritage DNA, for example, only utilizes autosomal DNA testing.
Advantages of Using MyHeritage DNA
MyHeritage offers users access to many helpful features. Their services allow you to discover your genetic matches, estimate your ethnicity, interact easily through web and mobile application platforms, and more. Here's an in-depth look at what features you'll have access to if you choose to utilize the testing services offered by MyHeritage DNA.
Scientific Experts and Specialists
MyHeritage DNA boasts access to 36 personalized health reports. These reports are generated based on rigorous scientific research.
Professional Health Oversight
In the USA the company works with a group of physicians called PWNHealth, which supervises Health DNA services and provides clinical oversight.
An Affordable and Simple Option
MyHeritage utilizes a simple cheek swabbing method for DNA collection. They are also one of the least expensive DNA tests comparatively.
Customer Base
This company has 2.4 million DNA users worldwide, 3.8 billion family tree profiles, 11.9 billion historical records, and offers 42 supported languages.
Ethnicity Estimate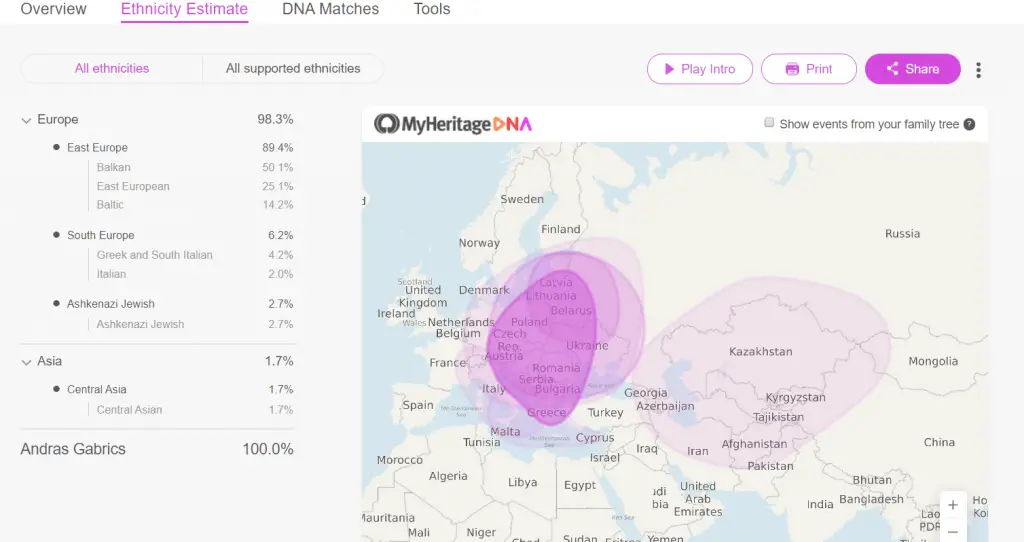 MyHeritage specializes in ethnicity estimation. Ethnicity estimation is a summary of your unique ethnic breakdown. They offer ethnic results from 42 regions around the world. They are especially good for the breakdown of European heritage, as they have a large ethnicity database from this region. So, if you believe that you have a strong European family line, this may be a good DNA testing option for you. However, they have a smaller database comparatively for other regions.
DNA Matches
MyHeritage DNA Matching is available to help you find out if you have any unknown relatives. You can compare your DNA data with other individuals in a large genetic sample database to identify shared genetic sequences that indicate a potential familial relationship. The higher the percentage of DNA a sample shares with the sample of another person, the closer their likely family relationship will be.
They offer a Chromosome browser for DNA comparison with DNA relatives as well. When you use their service, you are eligible to receive DNA Matches that compare to others who have tested with the MyHeritage DNA test, as well as with people who have tested with other services and uploaded their raw DNA data. This means that they allow users of all major testing companies (like 23andme and Ancestry DNA) to upload their DNA results to MyHeritage. This allows for a wider matching pool.
AutoClusters
MyHeritage DNA also now offers an AutoCluster feature. This is essentially a new genetic genealogy that they've created to group DNA Matches on an easy-to-read chart. You can quickly see where your DNA matches line up with common ancestors. They show you the relevant cluster data through a visual charting map. You can use this tool to explore your DNA matches more easily and efficiently. This feature is useful for mapping your family tree.
Ethnicities Map
MyHeritage DNA gives you access to an ethnicity map which lets you discover the most common ethnicities in each country. You'll be able to see the top countries around the world for each ethnicity group, according to user data from the MyHeritage database. If you are interested in mapping the regions where your ethnic relatives are most heavily gathered, this can be a helpful feature. Here is Germany's ethnicity map: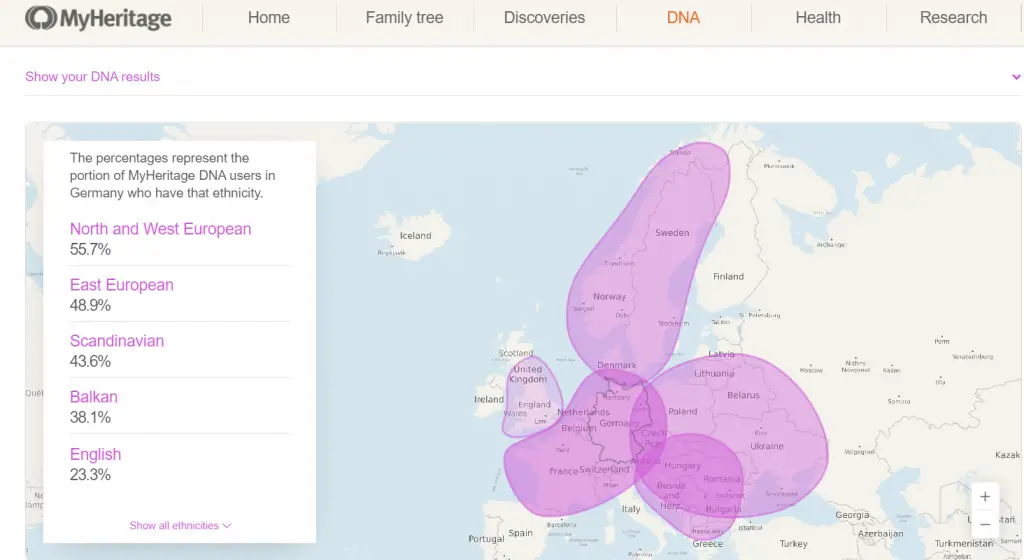 MyHeritage Health DNA Kits
Heritage also offers a separate Health DNA Test. It is useful for anyone interested in learning about certain genetic traits and other health-related information. It comes with a genetic risk report and a carrier status report.
Genetic Risk Reports
The Genetic Risk Reports from MyHeritage DNA identify 18 specific conditions which include:
• Crohn's Disease
• Celiac Disease
• Late-Onset Parkinson's Disease
• Late-Onset Alzheimer's Disease
• Age-Related Macular Degeneration
• Hereditary Hemochromatosis
• Alpha-1 Antitrypsin Deficiency
• Hereditary Thrombophilia
• G6PD Deficiency
• Hereditary Breast Cancer BRCA1/BRCA2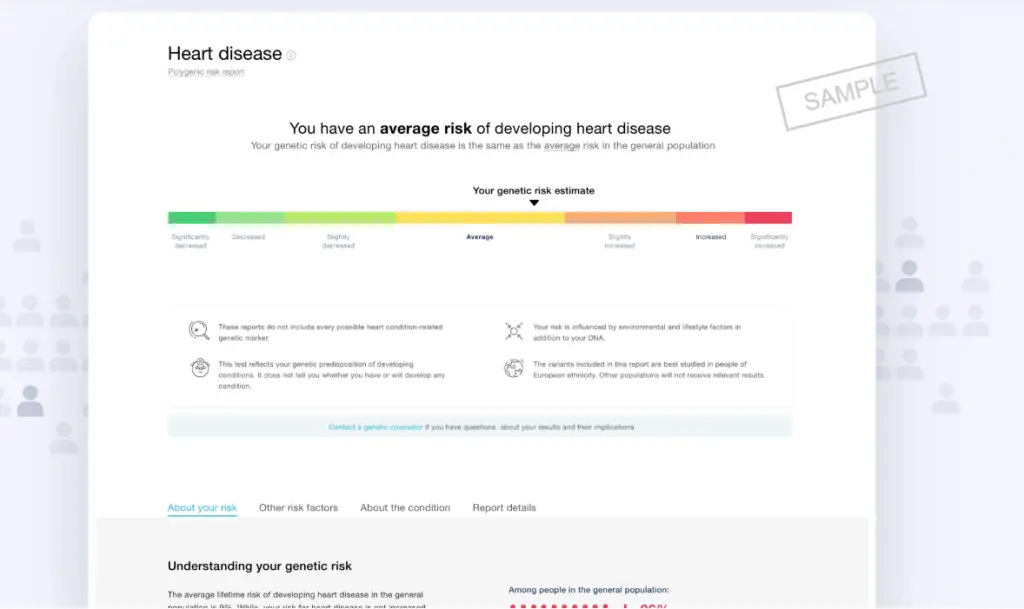 Carrier Status Reports
This report can tell you whether you (or your family members) are a carrier for 18 genetically transferable conditions. If you and your partner are both carriers of these disorders, any children you have together could potentially be at risk for conditions like:
• Sickle Cell Anemia
• Gaucher Disease
• Nonsyndromic Hearing Loss
• Niemann-Pick Disease
• Cystic fibrosis
• Tay-Sachs
• Fanconi Anemia
• Familial Dysautonomia
• Sickle Cell Anemia
• Gaucher Disease
• Nonsyndromic Hearing Loss
Drawbacks to Consider
While this service is less expensive compared to other similar services, it is lacking in a few areas.
• MyHeritage DNA does not offer y-DNA and mtDNA kits. This means that if you are interested in researching your ethnic roots throughout history, you may want to use another testing service company.
• Their Health DNA test is a separate package, which costs more.
• They have a smaller database of DNA test results ( around 2.4 million DNA samples) meaning that your DNA relatives are limited.
In Conclusion
In summary, MyHeritage DNA testing is a good option for those interested in learning about their DNA matches or for finding long-lost relatives. It can also be helpful in areas like ethnicity estimation and ancestry. Additionally, if you are interested in genetic traits and health testing, a health testing package is available.
However, this testing service does not allow you to trace your ancient ancestry because it only utilizes autosomal DNA analysis. It also has a relatively small database, though it does allow you to upload any previously obtained raw DNA data from other companies.
Only you can determine which company will be ideal for your specific situation. Taking the time to explore the details of each testing service is a great way to ensure that you'll choose a DNA testing service that will work well for you.
Q: What is MyHeritage?
A: MyHeritage is a genealogy and DNA testing company that offers a wide range of services for individuals interested in researching their family history and discovering more about their ancestry.
Q: How does MyHeritage work?
A: MyHeritage allows users to build their family tree online, connect with relatives through DNA matches, and access a vast database of historical records to uncover details about their ancestors.
Q: What does a MyHeritage DNA test offer?
A: The MyHeritage DNA test provides users with insights into their ethnic origins, matches them with potential relatives, and offers the option to upload raw DNA data from other testing companies.
Q: How much does MyHeritage DNA test cost?
A: The cost of a MyHeritage DNA test kit varies depending on the current offers and promotions. It is recommended to check the MyHeritage website for the most up-to-date pricing information.
Q: Are there any alternatives to MyHeritage for DNA testing?
A: Yes, there are several other companies that offer DNA testing services, such as AncestryDNA, 23andMe, and Living DNA. It is advisable to research and compare the features and pricing of different companies before making a decision.
Q: Can I upload raw DNA data to MyHeritage?
A: Yes, MyHeritage allows users to upload their raw DNA data from other testing companies. This can provide additional matches and insights into your ancestry.
Q: Is a MyHeritage subscription required to use their DNA testing service?
A: No, a MyHeritage subscription is not required to use their DNA testing service. However, a subscription may provide access to additional features and resources for genealogical research.
Q: How do I get started with MyHeritage?
A: To get started with MyHeritage, you can visit their website and create a free account. From there, you can explore the different services and options available.
Q: What can I expect from my MyHeritage DNA test results?
A: MyHeritage DNA test results provide a breakdown of your ethnic origins, information about potential DNA matches with other MyHeritage users, and insights into your genetic heritage.
What Should I Know Before Buying Genopalate in 2023?
Before purchasing Genopalate in 2023, it is crucial to read the genopalate review: must-read before purchasing. This review provides valuable insights into the product, guiding your decision-making process. By knowing what to expect, you can make an informed choice and understand how Genopalate can benefit your specific needs. Stay well-informed before investing in this genetic-based personalized nutrition tool.
Q: Are there any user reviews for MyHeritage?
A: Yes, there are many user reviews available for MyHeritage. It is recommended to read reviews from different sources to get a comprehensive understanding of the experiences and opinions of users.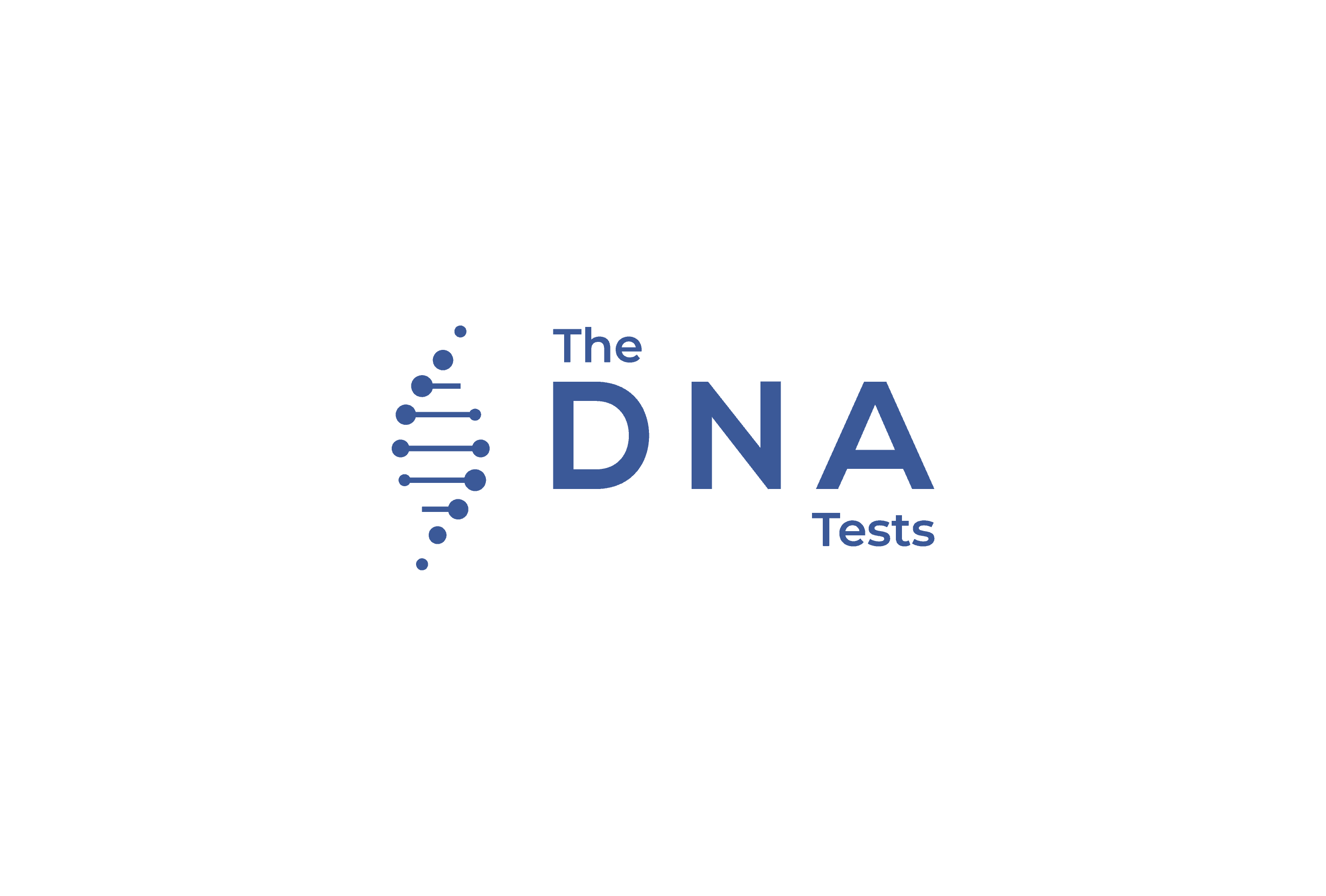 Throughout his career, Andras Kovacs has developed a deep understanding of DNA and its applications in genealogy and genetic testing. He has helped thousands of individuals uncover their ancestral heritage, using cutting-edge DNA analysis to trace family lineages and reveal connections across generations.